Pompeii
as I went (and noting down the page numbers of all the things in it that annoyed me), and met up with
angeoverhere
and
johnnydefective
at the station. We proceeded for lunch at a delicious dim-sum place, where ladies with trolleys and trays kept bringing round more and more delicacies, and we just said 'yes' to whatever we wanted. Conversation encompassing jobs, houses, incoming babies, geeky T-shirts and the crazy antics of mutual friends flowed across the pork dumplings and on through town to the
Art Gallery
, where we enjoyed a post-prandial hot beverage while M's chair vibrated inexplicably.
At 2pm, there was a changeover of personnel:
angeoverhere
and
johnnydefective
departed to buy curtains, while I rendezvoused with
miss_dark
,
vonheath
and
foxy76
for an afternoon of Art and Cake. We had a marvellous time wandering through the galleries discussing severed legs, decomposing eyes, family secrets and ugly crockery, interspersed in a most civilised fashion with further refreshments in the cafe. My favourite gallery was, predictably enough, the Victorian pre-Raphaelite section, which had lots of delicious Classicising scenes from the brushes of
Alma-Tadema
,
Albert Moore
and the like. I came away with postcards of
this gloomily erotic Sappho
by Charles-August Mengin,
this Delphic Sibyl
(who reminded me of
thebiomechanoid
) by Burne-Jones, and
this Chariot Race
by Alexander von Wagner, which was inspired by Lew Wallace's
Ben-Hur
.
I also bought one more postcard of a work which had stopped me in my tracks as we were going round the gallery with its
sheer preposterousness: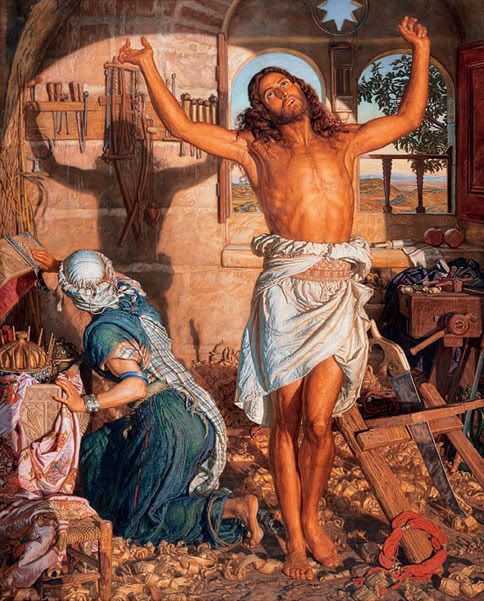 The Shadow of Death by William Holman Hunt (1871)

(Do you see how clever and ironic it is? Do you? Do you?)
It wasn't until I got home and actually looked at the back of the postcard that I realised it was in fact by my favourite Bad Artist ever,
William Holman Hunt
, who also produced this
brilliant piece of creative anachronism: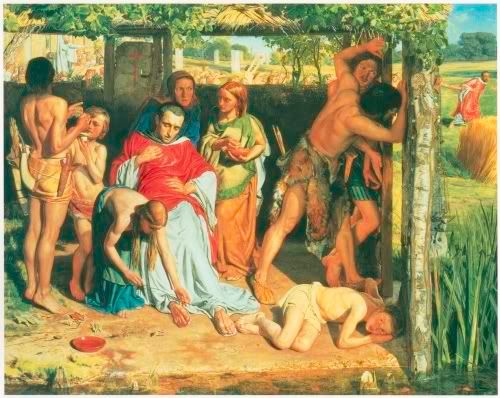 A Converted British Family Sheltering a Christian Priest from Persecution by the Druids by William Holman Hunt (1850)
That one, I'm happy to say, hangs in the
Ashmolean Museum
, Oxford, so that I have had the pleasure of seeing it, too, in all its canvassy glory. I now feel flushed with the desire to go on an ironic Holman Hunt pilgrimage, seeking out, viewing and *koff* 'appreciating' all his works in galleries across the globe.
Anyway, after having our artly fill,
miss_dark
,
foxy76
and I went on a very profitable shopping trip to Primark, and then wended our way eastwards again, discussing weddings and offering advice to my sister about carrot cake icing as we went. I had at one point intended to go out to Wendyhouse in the evening, but I realised that being in a fit state to do some work today wouldn't be a bad idea, given that our students arrive tomorrow, so I forewent the pleasure. And so I have spent today finishing off my curtains, doing washing and writing documentation for my new courses in a very pleasant and relaxed fashion.
Yesterday, I enjoyed a splendid day out in Manchester. I caught the train west across the Pennines in brilliant sunshine, reading Robert Harris'