anything
, since last Saturday evening. That makes six whole, complete days as a hermit: quite possibly the longest time I've been without leaving the house ever before.
It must be confessed that I fall a little short of true hermit status, because Fleur WINOLJ came round for a whole two hours on Wednesday night, and I have also been talking to people occasionally on the phone, as well as reading and commenting on people's LJs. Still, I've definitely been spending an unusual amount of time with no company but my own.
I don't seem to feel any psychological ill effects from this, though. I'm feeling a little tense and overburdened, but that isn't caused by the hermitage itself: it's a perfectly understandable symptom of the wider reason I'm doing this in the first place - my book. Progress on that is OK, though. Not startlingly, searingly good, but good enough that I can still get it done. Which is what matters. The last week's been tough, and next week is going to be tougher. But in my own way, I'm kind of enjoying it.
Life is very simple when you have one goal, and only one goal, from the moment you wake up in the morning to the moment you go to sleep at night. There's no guilt about not working, because I'm doing that all the time (well, apart from right now, obviously - but hey, I've earnt a little break!). There's no agonising over whether I'm 'good enough', because it just has to be done now, as best I can. And it's satisfying to find how much I'm improving my text, while simultaneously watching the word-count fall a little further each day.
No, I'm doing all right, and if, as I suspect, I don't leave the house again now until late this coming week (when my food supplies will run out), then that's OK with me.
I did enjoy my hour's foray into the outside world, though. The sun is bright, the sky blue, it was warm enough to go out with just a jacket instead of a coat, and there was a fresh, spirit-lifting spring breeze in the air. Town was full of people enjoying the weather, and the new
Oxford Castle complex
was full of Morris dancers, drummers, and cheery crowds watching their antics. I'd have liked to stay outside and play, but I know I'll get to see much the same sort of thing on May morning - and that I'll enjoy it far more then in the satisfaction of knowing I've finished my book.
I also had the pleasure of wearing an
extremely
cool pair of trousers out, which arrived in the post this morning. (Ahem, yes - Ebay have been profiting somewhat from the hours I'm spending in front of my computer, too.) They have instantly and officially become my favourite trousers, and in fact I have awarded them the title of The Trousers To End All Trousers in recognition of their true greatness. Here they are: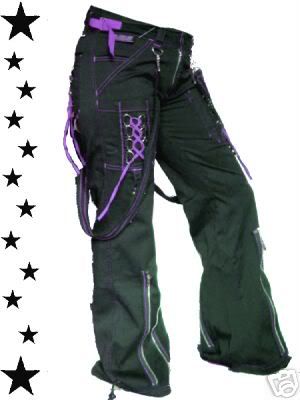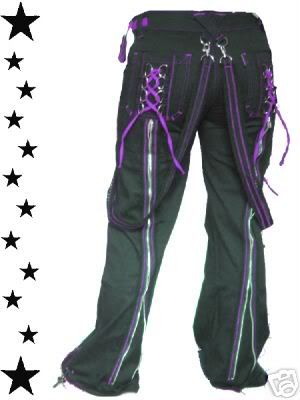 I'm always nervous about the fit of clothes when buying online, but these don't just fit me well. They fit me
perfectly
- like they'd been growed for the job (as my Dad says). They are also incredibly flattering to my figure,
and
will go very nicely with some chunky black and purple ankle-boots and a funky industrial black and purple jumper which I already own. I cannot, of course, attend
Intrusion
on Tuesday, due to the continuing hermitage. But you can bet your boots I'll be there for the May 9th one, and that these trousers will be with me. Oh, and I should warn any fellow attendees that, according to the label, these trousers are called 'Lust Pants'. Beware!
Well, I guess it's back to the grindstone, then. I'm currently writing about baths in the urban periphery - why they were built there, what they were like and what people did with them. Cheery comments to help me on my way much appreciated!
I've just been on a round trip to the post office and Sainsbury's. This is worthy of note, because it is the first time I have left the house at all, for